A wonderful opening ceremony under the snow (VIDEO)

14/03/2016 18:05
The 63° Meeting of the Ski Club International des Journalistes officially begun this morning at 10, with an amazing opening ceremony under the snow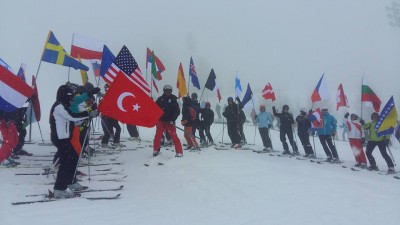 on the slope "Pista Giovanni Alberto Agnelli".
The major of Sestriere Valter Marin and the major of Pragelato Monica Berton welcomed the journalists, arrived from more than 30 countries: «We are proud to welcome you to our white, wonderful mountains, the Alpi Cozie, where Val Susa meets Val Chisone, and where Italy meets France. We're glad for the opportunity greet journalists from 30 different countries in the world».
They remembered also the 2006 Winter Olympic Games, that Skij is going to celebrate with a memorial on Wednesday 16: «We would like to remember also the great work done with Winter Olympic Games, an event that changed the face and the story of our city. We're grateful to celebrate with you the 10th anniversary».