Scij, Brecciaroli and Custodero win gold medals

21/03/2016 15:52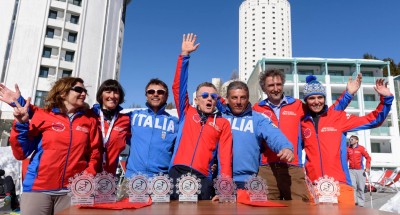 A sunny saturday and a wonderful snow halied the 63rd Scij Meeting in Sestriere. The day before, with the cross-country race in the morning, the Giant Slalom in the afternoon, a rock concert, a nice cafè pause, a good lunch and party at the disco until late was the busiest day of the week organized by Gis, the ski club of italian journalists.
di Barbara Goio
The Giant slalom should have been raced on Tuesday, but the weather was really bad, with snow, fog and critical conditions: so the organizers decided to postpone it on Friday afternoon, on the perfectly groomed Pista Giovanni Alberto Agnelli, one of the most famous Sestriere's slope. A longer race for men, shorter for women, but everybody was really pleased. Italy behaved quite well even if they had to register the bad fall of Andrea Saule, who unluckily reported some injuries. The thoughts of the italian team are for him: "Forza Andrea!".
The winner was the italian Luigi Brecciaroli (best time of the race with 52''.40). Also in the Cross country race, the gold medal went to an italian, Alberto Custodero, who won the Men Senior category, surlclassing even the Juniors' performances. Here all the results of the races.
Giant slalom
Men Junior: Petr Mlch (CZE); Blaz Mocnik (SLO); Christophe Ungar (SUI)
Men Senior: Miroslav Parobek (SVK); Julian Stoyanov (BUL); Daniele Benvenuti (ITA)
Men Super senior: Luigi Brecciaroli (ITA); Matjaž Albreht (SLO); Dario Cavaliere (ITA)
Women Junior: Astrid Wendlandt (FRA); Lucia Caretti (ITA); Cris Gibert (Esp)
Women Senior: Gisella Motta (ITA); Celine Serrat (FRA); Elisabet F. Södergren (SWE)
Women Super senior: Lena Hoglund Last (SWE); Barbara Goio (ITA); Martine Lanctôt (CAN)
Cross country
Men Junior: Blaz Mocnik (SLO); Petr Mlch (CZE); Christophe Ungar (SUI)
Men senior: Alberto Custodero (ITA); Miroslav Parobek (SVK); Frederick Wallace (CAN)
Men super senior: Matjaž Albreht (SLO); Luigi Brecciaroli (ITA); Petr Kubka (CZE)
Women Junior: Mariša Bizjak (SLO); Linda Salajková (CZE); Cahen Anne-Laure (FRA)
Women Senior: Helena Blomquist (SWE); Elisabet F. Södergren (SWE); Gisella Motta (ITA)
Women super senior: Martine Lanctôt (CAN); Lena Hoglund Last (SWE); Hana Salajkova (CZE)
Combined
Men Junior: Petr Mlch (CZE); Blaz Mocnik (SLO); Christophe Ungar (SUI)
Men Senior: Miroslav Parobek (SVK); Daniele Benvenuti (ITA); Frederick Wallace (CAN)
Men Super senior: Luigi Brecciaroli (ITA); Matjaž Albreht (SLO); Corrado Giustiniani (ITA)
Women Junior: Linda Salajková (CZE); Anne Fournier (SUI); Astrid Wendlandt (FRA)
Women Senior: Gisella Motta (ITA); Elisabet F. Södergren (SWE); Helena Blomquist (SWE)
Women Super Senior: Lena Hoglund Last (SWE); Martine Lanctôt (CAN); Barbara Goio (ITA)