Scij week ended, come and ski on the Olympic slopes

22/03/2016 15:39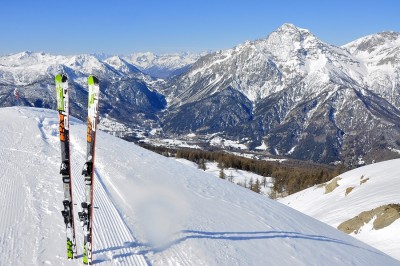 Cesana Torinese, Grangesises, Pragelato, Sauze di Cesana and Sestriere: here you have the stars of the Sestriere and Olympic Mountain Association. A vast mountain area with the capacity to offer sport, nature, fun and good times!
The Sestriere and Olympic Mountain Association began in 2009 with the objective of joining forces to present and promote to the market a competitive touristic package, in an ever increasing and demanding market. The participating founders include Cesana Torinese, Sauze di Cesana, Pragelato and Sestriere; and on a private level Sestrieres SPA (company which operate the ski slopes of the Milky Way) and the Hotel Association of Sestriere and Grangesises. What is our objective? To help you discover the beauty and wonder of our mountains and invite you back with open arms each season!
THE AREA – The territory represented by the Sestriere & Olympic Mountain Association consists of Pragelato, Sauze di Cesana, Grangesises, Cesana-Sansicario and Sestriere; and is the main Touristic hub in the Piedmont region, offering over 9000 beds. After the fantastic experience of hosting the Winter Olympic Games and the Paralympic Games in Turin 2006, the various towns and villages in the Milky Way area, came together to form a consortium to bid for prominent touristic events, and to satisfy the needs of a diverse National and International clientele.

THE MOUNTAINS – ONLY AN HOUR BY CAR FROM TURIN - You'll find our spectacular mountains situated only a little over an hour drive from Turin. By car, taking the A32 Freeway (direction – Monginevro) you'll arrive in Oulx, following on in the direction of Monginevro along the No 23 Highway, you'll arrive in Cesana, Sauze di Cesana, Grangesises, Sestriere and then Pragelato. Each village is situated within minutes of each other. By train from Turin, you get off at Oulx where you can arrive at your final destination with connecting bus services. With the Turin-Caselle airport in close proximity (only a little over an hour drive by car from the mountains) and the Cuneo Levaldigi, Milan Malpensa, Bergamo airports, opens up a network of direct and indirect links with other National and European destinations.
ACCOMOODATION, RECEPTION AND SERVICES – The Sestriere and Olympic Mountain Consortium can offer over 9135 beds (6885 hotels and 2250 rental properties). There is great emphasis and attention paid to welcoming our guests, ensuring both a smooth arrival and departure with transfer services to and from diverse airports, railway stations and bus connections for short and long distance travel routes. Recent sporting events for people with disabilities contributed to the reduction of architectural barriers in many hotels and residences and the saw the emergence of structures designed, fully equipped to accommodate people with disabilities to stay for both leisure and sporting events.
COME AND SKI ON THE OLYMPIC SLOPES – The Olympic events hosted here in 2006, along with numerous World Cup events are an excellent example of the quality and accessibility of the Milky Way for all levels of skiers. The Milky Way is one of the largest skiing areas in the world, with over 212 ski runs (7 Green, 67 Blue 97 Red and 41 Black runs) and 72 ski lifts. The slopes range from basic ski & snowboard runs for beginners, which can be accompanied by qualified instructors, to technically difficult and challenging runs for advanced skiers. Equally enriching are the various cross-country skiing and mountaineering routes available – built to satisfy all standards – from beginners to experts. Also available is off-slope 'Heli-Ski' – an experience not to be missed! For the kids there are numerous playgrounds ideal for fun in the snow – with or without skis.
To complete the Winter picture, there are also car demonstrations on the ice-rink of Pragelato, snow mobile rides, snow walking with 'racchette' (special type of rackets that attach to your shoes to facilitate walking thru fresh snow) sled rides pulled by mountain dogs and an ice-skating rink. Throughout the year there are also day spas open, Gymnasium, indoor-outdoor heated swimming pool, cinema, nightclub and many restaurants/bars so you can really make the most of your holiday. An appetizing and well established culinary tradition, and many local boutiques for shopping, all add up to a wonderful, relaxing yet stimulating holiday – both in the Summer and Winter seasons.
IN ADDITION TO SKIING... ART AND CULTURAL EXCURSIONS – There are a diverse range of outings on offer, (museums, parks, exhibitions, art galleries and cultural events) which are organised each year both in Summer and in Winter. Turin and Piemont have hosted many prestigious events, that have marked the history of Italy highlighted by museums, architecture, places of worship, original castles and fortresses. Each boasting a unique cultural heritage – and are located only a stone's throw from the mountains.
AT ONE WITH NATURE - Forests, meadows, streams, creeks, fountains, flora and fauna, mountain pastures, wild animals, mountain peaks drawn from the wind and weather. With three National parks on alternate sides of the Olympic Mountains, this allows you to explore the characteristic eco-system of this wonderful corner of the Italian Alps.
SPORT, FUN AND RELAXATION IN SUMMER – Not only are our mountains well known for skiing, but also for many other sports which are sure to fulfil diverse passions. Mountain biking is available in all it's forms, with tracks that are a part of the Alpi Bike Resort Circuit and the extreme Downhill MTB – a path that swoops down from Mount Fraiteve, to Sestriere at 2035m. There are also many extreme sports on offer for disabled people such as Hand Bike riding Downhill. From Football to Swimming, the Olympic Mountains are home to altitude training for a multitude of sports. The Chaberton Adventure Park and the Tibetian Bridge (the highest bridge in Europe) together with horseback riding, canoeing, kayaking, rafting, grass skiing, walks, prestigious golf tournaments on exclusive greens at high altitude are only a glimpse of the summer activities available, in addition to many events and traditional festivals held in the area each year.
ANCIENT VILLAGES WHERE TIME STOOD STILL – Cesana, Pragelato, Sauze di Cesana and Sestriere; 4 Local Towns consisting of 48 ancient mountain villages, where time has stood still. Some of them still preserve the essence of high altitude living. The tradition lives on also with ancient costumes, which can be seen in detail at the Museum of Costumes located in Pragelato. Typical outfits are still used in different local festivals and events, with dances accompanied by the unmistakeable sound of the "Ghironda" – otherwise known as the 'hurdy-gurdy'.
A TASTE OF THE MOUNTAINS – Simple or refined, strong or delicate, the flavours of our mountains are an integral part of your stay. In fact, local gastronomic traditions go perfectly with a selection of Italy's finest wines. You'll discover some of the most well known labels which accompany some of the most famous Italian delicacies.
Info:
The Sestriere and Olympic Mountain Association, Via Louset – 10058 Sestriere (TO) Italy.
Tel +39 0122 755444 - Fax + 39 0122 755171 info@consestriere.it
Press Office: Ezio Romano, info@press100.com